If you are intrigued by the many exciting and fascinating features of Minecraft but are hesitant to invest in purchasing its full version before trying the free version. That way, you can figure out whether it's something that piques your interest. If you want to get Minecraft for free on PS4, you don't need to worry.
You can get Minecraft for free on various devices and consoles such as Windows PC, Mac, PS3, PS4, PS5, Xbox 360, Xbox One, Vita, Linux, Android, and IOS.
The purpose of this guide is to tell you how to download Minecraft free on PS4 from the official Mojang website in an easy, fast, and legal way so you can try it without any cost.
When you finish the free version of Minecraft, you can continue playing the full version or stop.
Minecraft on PS 4
Minecraft is an adventurous soundbox game that has dual phases of survival and construction. It allows you to construct everything with blocks.
"Explore infinite worlds and build everything from the simplest of homes to the grandest castles. Create, explore, and survive alone or with friends on mobile, PC, and console devices."
Minecraft Official Site on Minecraft: Bedrock Edition
Also interested in reading: https://techbide.com/increase-tick-speed-in-minecraft/
Is Minecraft Free on PS4
Playing Minecraft for free via PlayStation 4 is possible even though the game is a paid title. Mojang offers a free demo version directly through the PlayStation Store, but you cannot save your progress. Upon closing the game, your progress is not saved, so once the adventure has ended, it cannot be resumed.
Playstation and Minecraft are a great combination. You can grab Minecraft Bedrock Edition if you own a PlayStation 4. Using PlayStation 4's Minecraft, you can play with friends in split-screen mode. Furthermore, you can play Minecraft cross-platform with devices running other game versions.
In addition, PlayStation VR support is included to allow you to enjoy immersive life-like gameplay. PlayStation Store users can download this game or purchase a disc version locally and online.
You may also like to read: https://techbide.com/minecraft-not-responding/
How Much is the Cost of Minecraft on PS4?
On the PlayStation Store, Minecraft is currently available for $19.99. The price is for the full version of Minecraft without any restrictions, but there are also no extras included. The PlayStation Plus prescription is also required for PlayStation Minecraft players to play online.
Upgrading from PS 3 Edition to PS 4 Edition costs just $4.99.
Note: Minecraft PS3 editions (Disc or Digital) with a saved game that is signed into the same SEN account are eligible for this entitlement.
You might also be interested in: https://techbide.com/install-minecraft-shaders/
Available Version or Minecraft for PS4
Since 2012, Bedrock Minecraft can also be referred to as Bedrock Engine Minecraft.
It has been the foundation of Minecraft for PC and mobile devices. In 2017, the Xbox One version was released, followed by the Nintendo Switch version in 2018, then the PlayStation 4 version was released.
Additionally, Minecraft Pocket Edition for gaming consoles, Nintendo Switch, and Windows 10 has been renamed Bedrock Edition.
The PS4 version of Minecraft Bedrock was released on December 10th, 2019. With every update, you'll be able to receive a free patch update that gives you the Bedrock version of the game. Following the instructions within the patch notes, update your game with the most recent patch.
A new version of Minecraft for the PS4 has released on September 1, 2022, naming it 1.19.22. This is an update that fixed a few bugs in the game.
Also read: https://techbide.com/fix-minecraft-mojang-screen-freeze/
Latest Minecraft Update for PS 4
Players of the PS4, PC, and Xbox One versions of Minecraft have received an update called 2.52 from developer Mojang. Among the new features in Minecraft 2.52 is allay duplication, locate biome command capabilities, and a number of bug fixes. Along with these improvements, Minecraft version 2.52 brings stability enhancements as well.
Also read: https://techbide.com/how-to-make-minecraft-infinite-lava-source/
Is Minecraft cross-Playable on PlayStation?
Since PS4 and PS5 Minecraft use the Bedrock version of the game, they can cross-platform play with every bedrock platform. All PlayStation Minecraft-compatible consoles and devices are listed below.
PlayStation
Nintendo Switch
Windows Mobile
Xbox
Kindle Fire
Android
iOS
Note: The majority of players should be able to take advantage of this, but PlayStation players cannot play cross-platform with PC players. The Windows PC uses Minecraft's Java version, which features custom textures, skins, and gameplay modifications.
You may like to read: https://techbide.com/minecraft-repair-bow/
Platforms and Features Comparison
The PlayStation 4 version of Minecraft Bedrock Edition also includes the following additional features:
Allows split-screen couch co-operation
Locally, it supports four players, and online, it supports up to eight players
A collection of texture, skin, and mash-up packs created by the Minecraft community
A collection of DLC skins and packs is included
Supports PlayStation VR
Up to eight players can play across multiple platforms, including PS4, Nintendo Switch, Xbox One, Xbox Series S/X, Android devices, iPad, iPhones, virtual reality platforms, and PCs running Windows 10.
You may also like: https://techbide.com/make-a-bed-in-minecraft/
How to Get Minecraft for Free on PS 4
Before purchasing the full version of Minecraft, you can get access to Minecraft for free on PS 4. You should follow these steps carefully to get quick, easy, and legal access to Minecraft free trial version.
Step 1: Connect Your PS 4 to The Internet
It may be necessary for you to get Wi-Fi access or a LAN cable first and then follow this step-by-step guide:
Installing Minecraft on your PS4 begins by downloading the game from the App store.
Connect your PS4 console via Wi-Fi or LAN to the internet.
Click on Settings after that.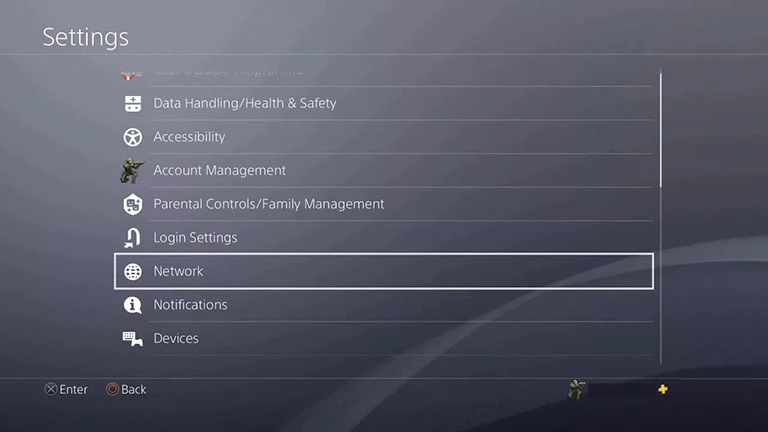 4. Click on Network and then Set Up Internet Connection.
5. Select the LAN cable option if you want to connect with cable ethernet
6. Set up your Wi-Fi connection by clicking on the network.
7. Then select easy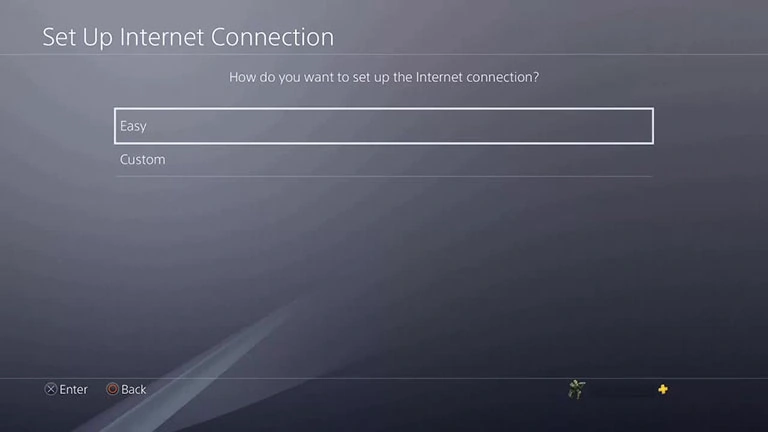 8. Make sure you select the Wi-Fi network you want to connect to and then configure the settings accordingly.
Note; Select Set Up Manually if you are unable to find the Wi-Fi network you wish to connect to.
Step 2: Create a PSN Account Via Login to PS Network
As soon as your PS4 has been connected to a working Internet connection, you will be able to log into the PlayStation Network, and you can access all Sony online services.
Here are the steps to create your free PSN account if you don't have one yet:
Navigate to the Settings menu

2. Next, go to PlayStation Network / Account Management
3. Click on New to PlayStation Network. Set up an account.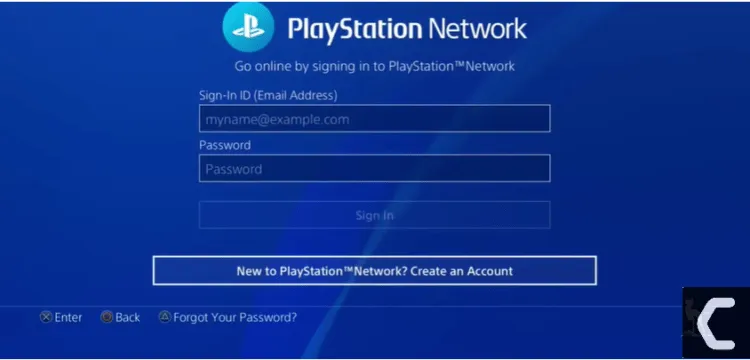 Click on the "Create a new account" button and follow the on-screen instructions.
Step 3: Subscribe to PS Plus Membership
A PlayStation Plus subscription is available through the PlayStation Network (PSN). With PlayStation Plus, you can play multiplayer games with your friends without any restrictions on usage or time.
Online storage allows you to back up all your progress and data related to games.
You can subscribe to PlayStation Plus by following the instructions below.
Choose PlayStation Plus on your PS4.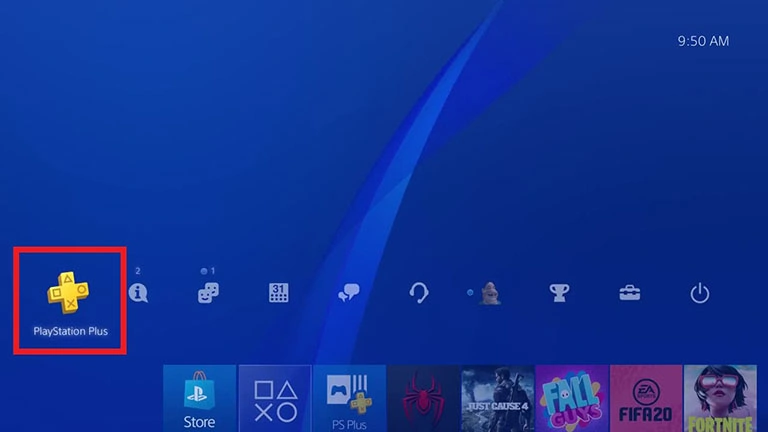 Then, click on the join PlayStation Plus option.
Finally, purchase a subscription so you can take advantage of its full features.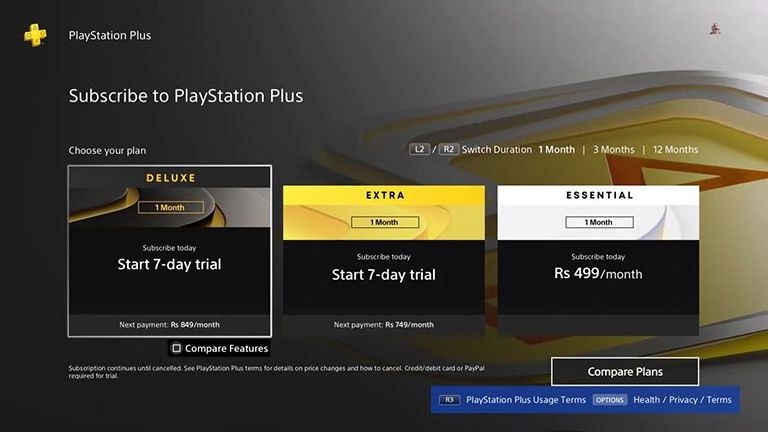 As long as your PS Plus membership is not canceled manually, it will automatically renew at the end of your subscription period.
Step 4: Download Minecraft for Free on PS 4
After the PlayStation Plus subscription, you can easily download the free Minecraft demo. The following steps will guide you through the process:
On your home screen, click the PlayStation Store icon and select Search from the menu.
2. Press the X button on the top of the box to activate Minecraft: Edition PlayStation 4.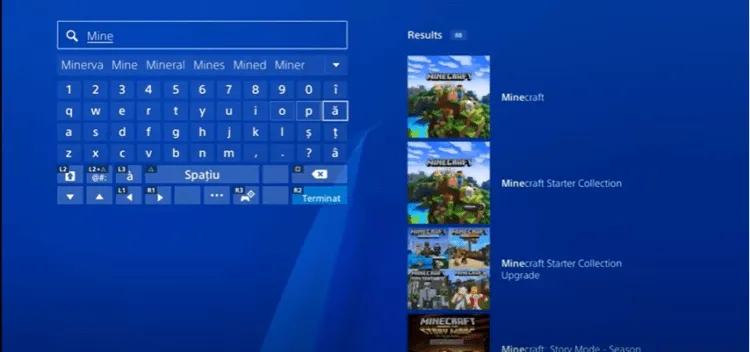 Finally, tap on the free trial button, and the downloading Minecraft demo will start.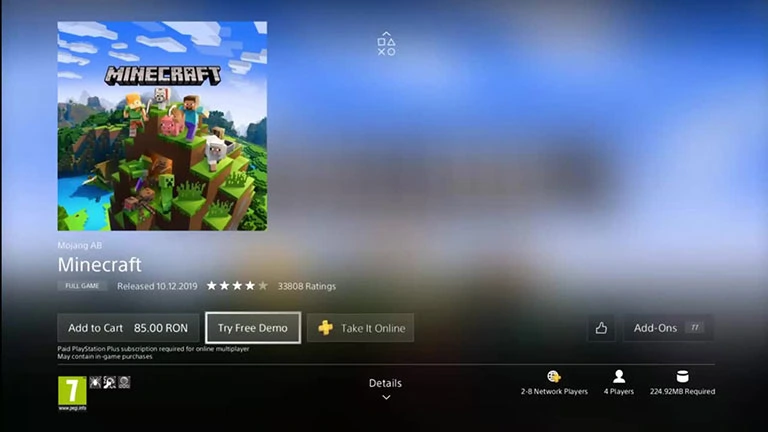 Play Minecraft from your PS4 home screen after you have downloaded it.
Step 5: Buying the Full Version of Minecraft on PS4
Minecraft is such an exciting game; once you try it, you might love to opt for its full version. If you don't know how to get Minecraft on your PS4, you should follow this procedure.
Go to the PlayStation Store first.
Type Minecraft into the search bar at the top of your screen.
On the right side of the list, click Minecraft: PlayStation 4 Edition.
Click on the X button and select the version you prefer.
Finally, enter all payment information and choose the payment method at your convenience. Payment options include PayPal, credit card, and debit card. Complete the procedure by following the on-screen instructions.
Note:
The full version may seem quite expensive, but you may find some packages offering discounts for your convenience.
The Pricing Plan of the PlayStation Plus Membership
Unless otherwise specified, this is an ongoing subscription, and your wallet will be debited every year for a regular subscription fee of $49.99.
Choose one of the most affordable plans for you;
PS Plus (Yearly): 12-month membership and annual payment.
PS Plus Monthly (1-month membership): 50% more expensive compared to the yearly payment.
PS Plus Quarterly (3 Month membership): 40% more expensive compared to the annual payment.
Note:
You can cancel your subscription whenever you want, so it expires at the end of the current month. As a result, you will no longer have to pay subscription fees in the future, but you will not be refunded.
Final Thoughts
We have explained the whole procedure of how to get Minecraft for free on PS4 in easy and quick steps. After reading this ultimate guide, you can go through the whole process in no time. You can play this adventurous game with your PlayStation network friends or alone. Moreover, explore and play Minecraft creative phase and survival mode with your whole worth by downloading Minecraft free demo version on PS4 and enjoy your gameplay without spending a penny.
FAQs
What Minecraft version is PS4 in 2022?
On June 20, 2022, Minecraft 1.19 "The Wild Update" launched simultaneously across all the platforms that are available, including Xbox, PlayStation, Nintendo Switch, PC, Mac, Linux, iOS, and Android.
Do PlayStation Plus members get Minecraft for free?
If you are a PlayStation Plus member, you can download Minecraft's demo version. Taking part in it will allow you to immerse yourself in the Mojang universe.
Is Minecraft available on the PlayStation 4?
Yes, Minecraft is available o PS 4. Mojang has created a free version of Minecraft for PlayStation users. However, users can't save the progress of their gameplay. Once they relaunch the game, you won't be able to continue the adventure.
How to get Minecraft on PS4 without PS Plus?
Unfortunately, you can't get Minecraft on PS4 without PS Plus. Free-to-play games can be played online without a PS+ subscription. Therefore, It is impossible to play Minecraft online without PlayStation Plus.